Atlanta Gas Light employee volunteers joined city officials and community leaders across Atlanta to participate in Plantlanta, an effort led by Trees Atlanta to plant 800 trees citywide in a single weekend, the largest planting in the organization's history. The employees focused efforts on an apartment complex in Peachtree Hills, one of several urban Atlanta neighborhoods they serve in their current roles in the Piedmont Enhancement Project, a two-year infrastructure improvement project that is enhancing safety and reliability by replacing natural gas lines with newer, more advanced materials.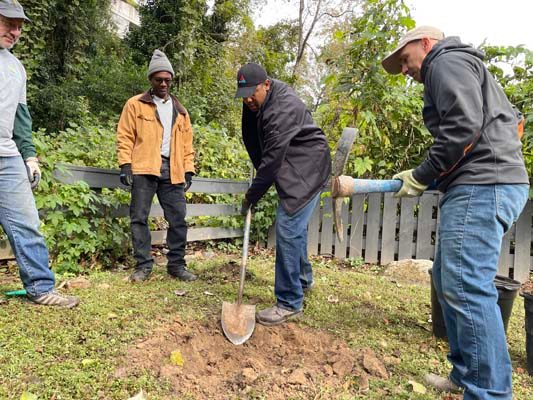 Atlanta Gas Light Vice President of Operations Dean Marianos loosens soil with a pick while Region Director Cordell Carter and Piedmont Enhancement Project Manager Thomas Wideman take turns moving the soil to buckets.
Vice President of Operations Dean Marianos commented on the planting project, saying, "As we work to meet our customers' needs for clean, safe, reliable, affordable natural gas, we always are looking for other sustainable ways to do something meaningful for our community. Planting a tree canopy is a great way to serve our customers and neighbors and enhance the environment in a number of ways, including lowering neighborhood temperatures in the heat of summer, fostering wildlife habitats and reducing carbon emissions and air pollution."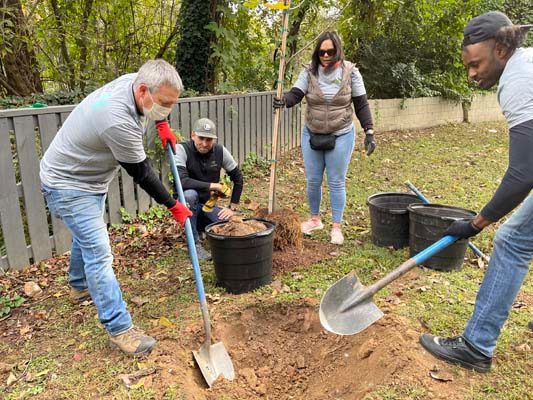 Atlanta Gas Light Senior Environmental Specialist Allen Jacks, Environmental Programs Manager Patrick Winnubst, Senior Environmental Specialist Dorian Afanador and Senior Category Manager Demetrious Ward ensure the hole is three times wider than the root mass and not deeper than the tree's previous environment.
In addition to volunteering with Plantlanta, the Atlanta Gas Light Foundation gave a $10,000 donation to Trees Atlanta. This comes on the heels of a separate payment to replace the single tree Atlanta Gas Light removed in order to facilitate construction of the Piedmont Enhancement Project.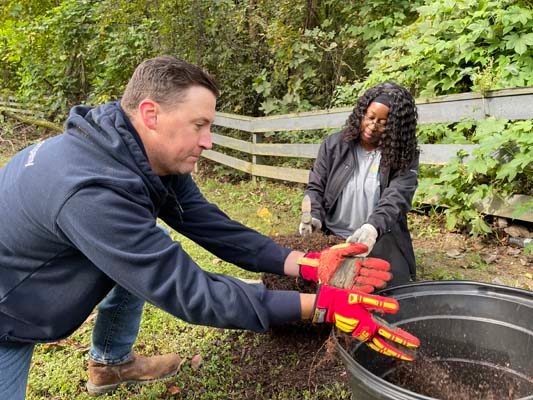 Atlanta Gas Light Construction Manager Justin Weaver and Senior Administrative Assistant Syreeta Campbell break up the roots to give them a fresh start on growth.
Well-versed in safe digging practices, the Atlanta Gas Light employees ensured that the tree planting project managers contacted 8-1-1 to have underground utility lines marked before their digging project began. This allowed Plantlanta volunteers to avoid damaging underground infrastructure while working.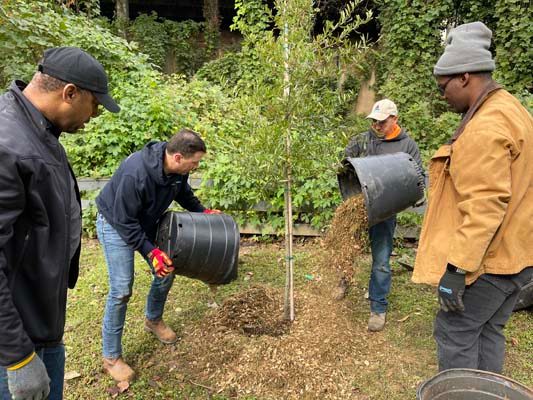 The Atlanta Gas Light team backfills the soil and waters and mulches the tree. For best results, the tree should be watered frequently until it's established.
Calling 8-1-1 connects to Georgia 811, which notifies the appropriate utility companies of the intent to dig. Professional locators then are sent free of charge to the requested digging sites to mark the approximate locations of underground lines with flags or spray paint. Yellow paint indicates presence of underground natural gas pipelines. Once lines have been accurately marked, it is important to respect the marks and use the appropriate tools to dig.
To learn more about natural gas safety visit https://atlantagaslight.com/safety.

For more information on the Piedmont Enhancement Project, visit piedmontenhancementproject.com and follow @PiedmontProject on Twitter for traffic updates and more.